Klein Slangkop Beach House
Klein Slangkop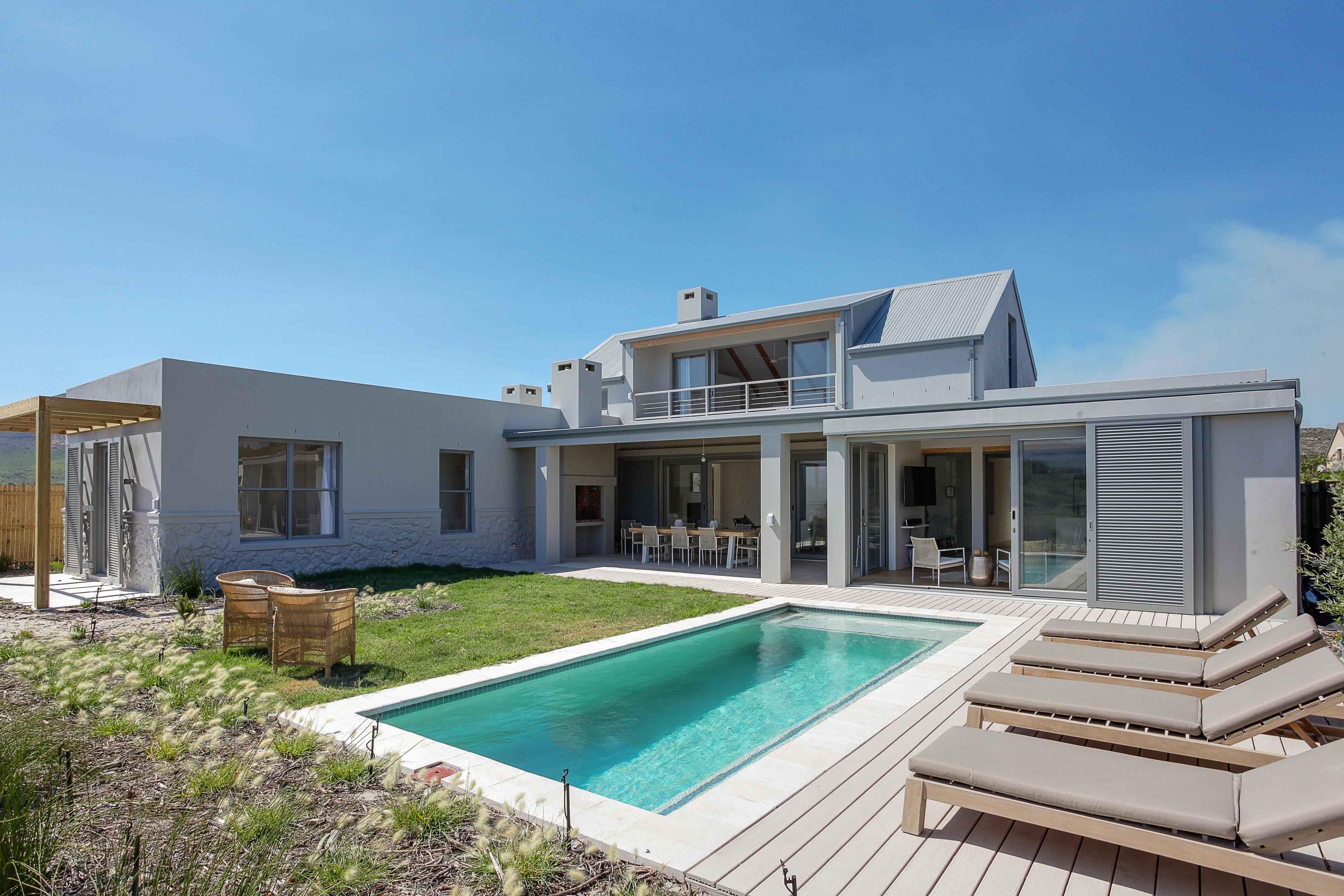 About Klein Slangkop Beach House
Klein Slangkop Beach House is situated in the sought after Klein Slangkop Security Estate in the quaint village of Kommetjie.

The double-storey home has four bedrooms and four bathrooms, and features a fully equipped kitchen with laundry amenities, a lounge area with a small bar and a fireplace, indoor dining for eight, and large doors opening onto the outdoor entertainment area with a swimming pool and built-in braai facilities. This stunning abode also offers guests DStv, an additional single room at the back of the house and parking on the premises.

Kommetjie is an ideal base from which to explore the southern parts of Cape Town, where guests can find attractions nearby such as the famous Chapmans Peak Drive, the striking Long Beach, and the Cape Point Nature Reserve, which is just around the way.
Facilities
Laundry Facilities*
Satellite TV*
Braai/Barbecue
Swimming Pool
Parking on Premises
* Please enquire for further details.
Important Information
PART B – LEASE TERMS AND CONDITIONS1.DEFINITIONS1.1."Affected Parties" means the Occupancy Parties, the Tenant's dependants, the Tenant's guests and/or guests of any of the foregoing; 1.2."Agent" means the person referred to in clause 4, Part A of this Agreement;1.3."Agreement" means this document and any annexures or schedules hereto; ... PART B – LEASE TERMS AND CONDITIONS1.DEFINITIONS1.1."Affected Parties" means the Occupancy Parties, the Tenant's dependants, the Tenant's guests and/or guests of any of the foregoing; 1.2."Agent" means the person referred to in clause 4, Part A of this Agreement;1.3."Agreement" means this document and any annexures or schedules hereto; 1.4."Breakages Deposit" means the refundable breakages deposit recorded in clause 7, Part A of this Agreement; 1.5."Business Day" means any day other than a Saturday, Sunday or Public Holiday in the Republic of South Africa;1.6."Commission" means 20% (twenty percent) of the Rental; 1.7."Indemnified Parties" means the Landlord, and the Agent and their staff, consultants, independent contractors, agents, licensees and assigns; 1.8."Landlord" means the person whose details are recorded in clause 2, Part A of this Agreement; 1.9."Occupation Date" means the date recorded in clause 5, Part A of this Agreement;1.10."Occupation Period" means the period of time commencing on the Occupation Date and ending on the Termination Date;1.11."Occupancy Parties" means the persons, including the Tenant (if applicable), who will be occupying the Premises for the Occupation Period, as recorded in clause 5, Part A of this Agreement;1.12."Parties" means the Tenant, the Landlord and the Agent and "Party" means either of them, as required by the context;1.13."Premises" means the Premises recorded in clause 1, Part A of this Agreement;1.14."Rental" means the total rental amount which is payable by the Tenant to the Agent in respect of the Tenant's use of the Premises, being the amount recorded in clause 7, Part A of this Agreement;1.15."Signature Date" means the date on which this Agreement is signed by the last Party to do so;1.16."Tenant" means the person recorded in clause 3, Part A of this Agreement; and1.17."Termination Date" means the date recorded in clause 5, Part A of this Agreement.2.INTERPRETATION2.1.Clause and paragraph headings are for purposes of reference only and will not be used in interpretation.2.2.Unless the context clearly indicates a contrary intention, any word denoting any gender includes the other gender, the singular includes the plural and vice versa, natural persons include artificial persons and vice versa.2.3.The terms of this Agreement have been negotiated. Accordingly, the contra proferentem rule in terms of which an Agreement will be interpreted against the party responsible for the drafting and preparation of the Agreement will not apply in the interpretation of this Agreement.2.4.The expiration or termination of this Agreement shall not affect such provisions of this Agreement as expressly provide that they will operate after such expiration or termination or which of necessity must continue to have effect after such expiration or termination, notwithstanding that the clauses themselves do not expressly provide for this.3.LEASE OF PREMISES The Landlord hereby offers to lease the Premises to the Tenant, who hereby accepts the offer, subject to the terms and conditions of this Agreement. 4.DURATION This Agreement shall come into force and effect on the Signature Date and shall continue in full force and effect indefinitely, until terminated in accordance with the terms contained herein. 5.RESERVATION AND PAYMENT TERMS 5.1.The Rental and Breakages Deposit is payable in accordance with the provisions of clause 7, part A of this Agreement. For the avoidance of doubt, the Tenant's reservation will only be deemed to have been secured, and be binding on the Landlord, once the Agent furnishes the Tenant with written confirmation of the Tenant's reservation against receipt by the Agent of: (i) this Agreement, duly completed and signed by the Tenant and (ii) the full payments required to reserve the Premises, as recorded in clause 7, Part A of this Agreement.5.2.All payments shall be made into the nominated bank account, which details are recorded in clause 7, Part A of this Agreement. 5.3.In the event that the Tenant fails to timeously pay the balance of the Rental and/or the Breakages Deposit referred to in clause 7, Part A to this Agreement the Agent shall be entitled to cancel the reservation by notice in writing to the Tenant, in which case the Tenant will be liable for the Penalties referred to in clause 7 below. 6.AGENT'S COMMISSION6.1.The Agent shall, within 10 (ten) Business Days after receipt by it of the Rental from the Tenant – 6.1.1.deduct its Commission and any other amounts owing to it; and6.1.2.pay the balance to the Landlord. 6.2.In the event that the Rental, or settlements or claims in relation thereto, is for any reason received by the Landlord directly, the Commission shall be due and payable to the Agent within 10 (ten) Business Days of the month succeeding the month in which the Landlord receives the Rental, settlement or claim, without deduction or set-off for any cause whatsoever.6.3.The Landlord shall be liable to pay the Commission to the Agent despite cancelation of the whole or portion of a lease. It will be incumbent upon the Landlord to ensure that this is stipulated in the Landlord's insurance policies of the Premises and for rental loss risks. 6.4.In the event of the Landlord directly contacting and/or otherwise dealing with a Tenant, the Landlord shall be liable to the Agent for the Commission that it would have earned had the respective parties not dealt directly with one another and such Commission shall be due and payable to the Agent within 10 (ten) Business Days of conclusion of an agreement of lease between the Landlord and such Tenant. 7.CANCELLATION 7.1.Where the Tenant requests a cancelation of a reservation, and In the circumstances referred to in clause 5.3 above, the following cancellation penalties ("Penalties") will apply:7.1.1.for reservations cancelled more than 30 (thirty) days prior to the Occupation Date the Tenant will forfeit 50% of the Rental; and7.1.2.for reservations cancelled less than 30 (thirty) days prior to the Occupation Date the Tenant will forfeit 100% (one hundred percent) of the Rental.7.2.The Landlord / Agent shall be entitled to deduct the amounts from the deposits (including the Breakages Deposit) referred to in clause 7 of Part A to this Agreement. In the event that such deposits are not sufficient to cover the above amounts, or where this Agreement is cancelled due to the Tenant failing to timeously pay any amount referred to in this Agreement, the Landlord retains its right to claim any shortfall directly from the Tenant. 7.3.If the Tenant requests a change in dates from the initial confirmed dates, and such dates are of a shorter duration than the initial confirmation, the Tenant will be liable for Penalties on the Rental payable for those cancelled dates, provided that the Agent will actively open up the availability for the cancelled dates and any income from new bookings taken will be credited back to the Tenant. 7.4.No cancelation fee will be charged in the event that the reservation is cancelled as a result of death of the Tenant and the Occupancy Parties prior to the Occupation Date.7.5.Other than as recorded in this clause 7, refunds and waiver of cancelation policies are at the sole discretion of the Agent.7.6.In the event that the Landlord cancels this Agreement for any reason other than breach by the Tenant of this Agreement, the Landlord shall reimburse the Tenant a pro rata portion of the Rental for the period that the Premises was rendered uninhabitable.7.7.All refunds under this clause 7 shall be made by the Landlord to the Tenant within 20 (twenty) Business Days of the Tenant's request for same, provided that where the Landlord disputes the Tenant's entitlement thereto, such refunds shall only become due upon determination by a competent court or otherwise by agreement between the Tenant and the Landlord. 7.8.Notwithstanding anything to the contrary contained in this Agreement, the Agent will be entitled to refuse the Tenant access to the Premises in the event that the Tenant has failed for any reason to fulfil its obligations as per this Agreement.8.USAGE OF THE PREMISES8.1.The Tenant shall use the Premises only for the purpose of a private holiday residence.8.2.The Premises shall be used for no other purpose whatsoever, without the Landlord or the Agent's prior written consent.9.MAXIMUM OCCUPANCY 9.1.No person other than the Occupancy Parties will be entitled to occupy the Premises overnight in any circumstances whatsoever without the Agent's prior written consent. The failure to comply with same will result in the Tenant being liable for a full night's Rental for the additional person/s.9.2.Daily visits are restricted to no more than the number of persons recorded in clause 0 of Part A. 9.3.The Agent may consent to a higher number but such request for consent must be made in writing to [email protected] at least 1 (one) day in advance. In the event of the Agent failing to give consent for whatever reason for any additional persons, the Tenant will be liable to pay a penalty of R500.00 (five hundred rand) per additional daily visitor.10.BREAKAGES DEPOSIT10.1.The Agent will be entitled to deduct/set-off from the Breakages Deposit: 10.1.1.any costs in repairing damage to the Premises or to any furniture, appliances, cutlery or other property located within or on the Premises;10.1.2.any professional cleaning or other services required to remove stains, dirt or odour; 10.1.3.any penalties incurred by the Tenant as contemplated herein; and10.1.4.the amounts referred to in clause 7 above. 10.2.Such deduction or set-off shall be in addition to any other rights of recourse that the Landlord and/or Agent may have against the Tenant, including but not limited to a damages claim.10.3.The balance of the Breakages Deposit (without interest) shall be refunded to the Tenant within 14 (fourteen) days of the Termination Date or the date on which the Agent incurs the cost as stipulated above, whichever is later. 10.4.The Tenant shall be liable for any fluctuations in exchange rates and shall have no right of recourse against the Agent in the event of the Tenant receiving a lesser Breakages Deposit than that given as a result of any such fluctuations in the exchange rate. 11.THE TENANT'S RIGHTS AND OBLIGATIONS11.1.Smoking is strictly prohibited inside the building located on the Premises.11.2.Pets are not permitted on the Premises without the Agent's prior written approval.11.3.Safety & insurance:11.3.1.The Tenant must ensure that all windows, doors, gates and/or garage doors are locked when the Premises is left unattended and where the Premises has a security alarm, the Tenant must ensure it is fully activated.11.3.2.The Tenant acknowledges that he/she/it will be liable for his/her/its failure and/or the failure of the Affected Parties to properly secure the Premises and/or for such parties doing or causing to be done anything on the Premises which results in the repudiation of any insurance claim instituted by the Landlord for loss resulting from fire, theft (or otherwise) under his/her/its household insurance policy or any other policy. The Tenant will be personally liable to the Landlord for any loss or damage suffered by the Landlord as a result of such repudiated claim;11.3.3.The Tenant hereby acknowledges that the Premises contain inherent dangers (including but not limited where applicable, to a swimming pool) and the Tenant hereby agrees to use such Premises at the Tenant's own risk. The Tenant further assumes all liability for any damage or loss suffered by any of the Affected Parties as a result of their occupancy and/or use of the Premises.11.3.4.The Tenant is responsible for the safety of all property owned, borrowed or rented by the Tenant and the Affected Parties, including where applicable, vehicles.11.4.Nuisance:11.4.1.The Tenant shall refrain from doing anything which may constitute being a nuisance to the neighbours; and11.4.2.shall not host any large social gatherings without the written consent of the Agent.11.5.Notification of defects:11.5.1.The Tenant shall notify the Landlord in writing within 12 (twelve) hours after the Occupancy Date of any defects in the Premises.11.5.2.If the Tenant fails to notify the Landlord in accordance with clause 11.5.1, the Tenant shall be deemed to have acknowledged that the Premises were received in good order and condition and the Tenant shall have no claim against the Landlord for any defect subsequently therein.11.6.No sub-leasing etc.11.6.1.The Tenant shall not sublet, permit anyone else other than the Occupancy Parties to occupy, or part with possession of the Premises or part thereof without the Agent's prior written consent.12.THE LANDLORDS RIGHTS AND OBLIGATIONS12.1.The Landlord shall prepare the Premises in accordance with the marketed description of the Premises and/or any other preparation schedule supplied by the Agent to the Landlord in writing from time to time.12.2.In the event that the Landlord fails for any reason to prepare the Premises as aforesaid the Agent shall be entitled, but not obliged, to:12.2.1.prepare the Premises for and on behalf of the Landlord and to recover any costs incurred by it, together with the Agent's R350.00 (three hundred and fifty rand) an hour fee for time spent by it; and/or12.2.2.employ a tradesman (plumbers, electricians etc) to rectify any problem occurring on the Premises which requires the skills and labour of a tradesman. The Landlord will be liable to pay the tradesman's account together with the Agent's R350.00 (three hundred and fifty rand) an hour fee for time spent arranging and facilitating the rectification of the problem.13.DISCLAIMER AND INDEMNITY 13.1.The Indemnified Parties shall not in any way be liable to the Tenant and/or any of the Affected Parties for any loss, damage, injury or death howsoever arising which the Tenant and/or the Affected Parties may directly or indirectly sustain, or by reason of any damage to, loss or destruction of any property owned by or in the possession of the Tenant and/or the Affected Parties, by reason of:13.1.1.any latent or patent defects in the Premises or building on or in which the Premises is situated; 13.1.2.any safety hazard (including but not limited to pools located on the Premises);13.1.3.fire in the Premises or building; 13.1.4.theft from the Premises; 13.1.5.the Premises or building or any part thereof being in a defective condition or state of disrepair or any particular repair not being effected by the Landlord timeously or at all; 13.1.6.the functioning or malfunctioning of the air-conditioning (if any) serving the Premises; and/orany act or omission by any other Tenants of the Premises or their guests. and the Tenant indemnifies the Indemnified Parties against any claims made against any of the Indemnified Parties in connection with the foregoing and agrees to pay the costs, on an attorney and own client scale, incurred by the Indemnified Parties in defending such claims. 14.NOTICES AND DOMICILIA 14.1.The Parties choose as their domicilium citandi et executandi for all purposes under this Agreement, whether in respect of court process, notices or other documents or communications of whatsoever nature (including the exercise of any option), the addresses stipulated on the front page of this Agreement. 14.2.Any notice or communication required or permitted to be given in terms of this Agreement shall be valid and effective only if in writing.14.3.Either Party may by notice to the other Party change the address chosen as its domicilium citandi et executandi to another address or its email address, provided that the change shall become effective on the 10th (tenth) business day from the deemed receipt of the notice by the other Party.14.4.Any notice to a Party:14.4.1.delivered by hand to a responsible person during ordinary business hours at its domicilium citandi et executandi shall be deemed to have been received on the day of delivery; or14.4.2.sent by email to its chosen email address, shall be deemed to have been received on the date of dispatch (unless the contrary is proved).14.5.Notwithstanding anything to the contrary herein contained a written notice or communication actually received by a Party shall be an adequate written notice or communication to it notwithstanding that it was not sent to or delivered at its chosen domicilium citandi et executandi.15.GENERAL15.1.No variation of, addition to, consensual cancelation of or waiver of provision, term or any right arising in terms of this Agreement shall be of any force or effect unless it is reduced to writing and signed by a duly authorized representative of each of the Parties and "signed" shall, for this purpose, exclude any form of electronic signature.15.2.Should any clause in this Agreement become illegal, invalid or unenforceable in any respect the remaining clauses will not be affected or impaired thereby.15.3.This Agreement shall be governed by, and construed in accordance with, the laws of the Republic of South Africa and all disputes, actions and other matters relating thereto shall be determined in accordance with such laws.15.4.The Tenant consents to the jurisdiction of the Magistrate's Court irrespective of the amount in dispute but such consent does not preclude us from deciding to institute action in a high Court with jurisdiction. In the event that the Agent should take legal action against the Tenant, the Tenant agree to pay the Agent's legal costs on an attorney and own-client scale as the well as tracing the Agents charges and collection fees.15.5.The Tenant may not cede or assign or otherwise make over or dispose of any of the Tenant's rights or obligations in terms of this Agreement without the Agent's prior written consent.15.6.Any indulgence, leniency or extension of time which the Agent may grant to the Tenant shall not, in any way, prejudice us or preclude us from exercising any of the Agent's rights in the future. see more
Klein Slangkop Beach House Map
Click to display the map
Klein Slangkop Beach House is 0.2km from the centre of Klein Slangkop , the nearest airport 33.9km (Cape Town International Airport).
*Distances are shown as the crow flies and not necessarily the actual travelling