Harbour Bridge Penthouse
De Waterkant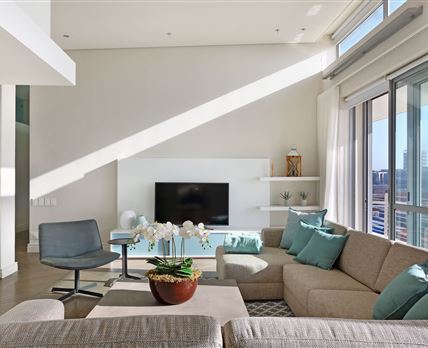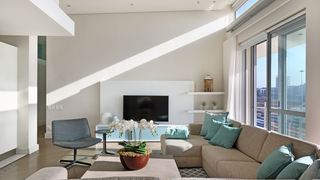 About Harbour Bridge Penthouse
Beautiful Penthouse Apartment next to the International Convention Centre.

This apartment block has a rooftop pool with a sundeck and views of the harbour. It is built over the Roggebaai Canal at the entrance to the V&A Waterfront.

Attractions in the area include Cape Town City Bowl, Blaauwberg, Atlantic Seaboard, and Table Mountain.
Response Rate: 100%
Enquiry Response Time: 24 hours
Type: Self-catering
Sleeps: 4
Check-in: 2:00 PM

Check-out: 10:00 AM
Facilities
Satellite TV*
Swimming Pool
Wi-Fi
Parking on Premises
* Please enquire for further details.
Important Information
STANDARD TERMS AND CONDITIONS:

-By making a reservation with Faircape Short-Term Letting you agree to the following terms & conditions.
-Arrivals:Check-in time is from 14:00 pm onwards on the day of arrival. Check-out time is 10:00 am on the day of departure. A penalty fee of R300 / hour shall be charged for late check-outs.... STANDARD TERMS AND CONDITIONS:

-By making a reservation with Faircape Short-Term Letting you agree to the following terms & conditions.
-Arrivals:Check-in time is from 14:00 pm onwards on the day of arrival. Check-out time is 10:00 am on the day of departure. A penalty fee of R300 / hour shall be charged for late check-outs.
-Payment Terms: In order to secure the reservation the Tenant shall accept these Terms and Conditions and shall pay the booking fee as well as the security deposit. The reservation shall not be confirmed until such time as Faircape Short-Term Letting confirms that the deposit and booking fee has been received. No guests will be accommodated without full payment received in advance.
-For your convenience credit card facilities are available through a secure online payment system.
-Key & Breakage Security Deposit: The tenant hereby agrees for any amounts owing due to breakage, key replacement, unpaid rental or services or any other amount payable for whatsoever nature, to be billed to the Tenant's credit card as per the details provided when making the reservation. Furthermore, if extensive cleaning is required upon departure, these costs shall be charged to the Tenant's credit card.
-Any loss or damage to the property and/or its contents shall be charged to the Tenant's credit card, whether accidental or intentional.In the interest of security, any lost keys or keys not returned will result in locks and keys being replaced and the guest held accountable for such charges.
-Rights Reserved: Faircape Short-Term Letting reserves the right to refuse any booking request and to terminate any booking should the Tenant behave in a manner which in Faircape Short-Term Letting's sole discretion is unacceptable.
-Breach: Should either party commit any breach of these terms and conditions, then the aggrieved party shall be entitled to give the defaulting party 3 (three) days notice to remedy such breach, and if the defaulting party fails to comply with such notice then the aggrieved party shall be entitled, without prejudice to any other rights which the aggrieved party may have in law, including the right to claim damages, to cancel the reservation or to claim immediate performance and/or payment of all the defaulting party's obligations in terms hereof.Should the aggrieved party institute action against the defaulting party pursuant to a breach by the defaulting party of these terms and conditions, the aggrieved party shall be entitled to recover from the defaulting party all costs incurred by it including legal costs on the scale as between attorney and own client, tracing fees and such collection commission as the aggrieved party is obliged to pay its attorneys
-Cancellation Policy: The parties agree that should the Tenant cancel this reservation or any part thereof, for any reason whatsoever, the following cancellation fees shall apply: For bookings cancelled more than 60 days prior to the arrival date a cancellation fee of 50% of the total rental charged shall be retained. For bookings cancelled within 60 days of the arrival date a cancellation fee of 100% of the total rental charged shall be retained.If the Premises should be unsuitable for occupation, Faircape Short-Term Letting reserves the right to provide alternative accommodation of a similar standard or to cancel the reservation and reimburse the Tenant a pro rata portion of the rental.
-Tenant's Duties, Rights and Obligations: The Tenant shall-Allow Faircape Short-Term Letting, at all reasonable times, permission to enter the Premises to inspect same in order to view the condition and state of repair thereof;not sub-let the whole or any part of the Premises to any third party.Not make any alterations or additions to the Premises;Not do, or omit to do anything, which could damage the Premises, or render any insurance policy in respect of the Premises void or voidable;Refrain from doing anything which is illegal and/or causing any noise or nuisance that would in any way disturb the quiet and peaceful occupation enjoyed by the neighbours of the Premises.
-The Tenant acknowledges that no music shall be played after 22:00 pm. Comply with the Conduct Rules of the Body Corporate, attached hereto as Annexure A.Use the Premises for residential purposes only and use any store, parking and common area for the use in which it is intended. Any alternative usage such as an event or film location is prohibited unless Faircape Short-Term Letting has granted written consent.
-Please note that any special use is subject to an additional fee. Keep and maintain the interior of the Premises in good order and condition;Notify Faircape Short-Term Letting in writing, within 24 (twenty-four) hours after taking occupation of the Premises, of any defects in the Premises, failing which the Tenant shall be deemed to have acknowledged that the Premises was received in good order and condition.
-Notify Faircape Short-Term Letting in writing, within 24 (twenty-four) hours after taking occupation of the Premises, of the absence of any of the inventory, failing which the Tenant shall be deemed to have acknowledged that the inventory is true and correct; Not cede and/or delegate any rights and/or obligations contained in these terms and conditions; Not keep any animals or pets on the Premises; Refrain from smoking in the premises at all times; Not make duplicates of any of the keys in respect of the Premises, and shall on the Termination Date, forthwith deliver all keys (including any duplicates thereof) and remote control(s) to Faircape Short-Term Letting; On the Termination Date, return and deliver the Premises to Faircape Short-Term Letting in good order and condition; and Bear the costs of any additional services incurred by the Tenant.Additional occupants shall only be entitled to occupy the Premises with the express written consent of the Manager and shall be subject to an additional charge per extra person.
-An extended reservation is subject to availability and must be arranged with Faircape Short-Term Letting in advance. Additional rental payable in respect of the extended occupation period must be settled prior to the commencement thereof in order to avoid a penalty fee of R300 per hour. If the Tenant is not a South African Citizen, the Tenant warrants that he/she is in possession of a legal permit which qualifies him/her to rent the Premises. Consumption such as water & electricity is included in the rental (unless excluded by mutual agreement on longer rentals).
-Please note that electrical outages or load shedding and/or water supply interference is beyond Faircape Short-Term Letting's control. Should you experience electrical outages or low water pressure, kindly notify Faircape Short-Term Letting immediately in order for them to assess the cause.The Operator's Duties, Rights and ObligationsFaircape Short-Term Letting shall-Ensure that the Premises is let substantially in accordance with the furnishings, fittings, appliances, equipment and amenities represented on the reservation booking system as being on or forming part of the Premises.
-The Premises shall be made available in a good and clean condition and all fittings, appliances, equipment and amenities shall be in sound and good working order. Provide a daily cleaning service and arrange for linen and towels to be replaced every third day during the reservation period.;Be entitled to give a Tenant 24 (twenty-four) hours to vacate the Premises if the tenant and/or any of his/her guests breach any of these Terms and Conditions or any of the Body Corporate's Conduct Rules.
-Indemnity: Faircape Short-Term Letting, its employees and/or agents do not accept liability for any loss, damage, claim, theft, accident or injury to any personal items and/or person for any reason whatsoever. This includes any consequential damages caused as a result of such injury or damage to property.The Tenant herewith indemnifies Faircape Short-Term Letting and the Owner in respect of any claim whatsoever arising out of the occupation of, or occurring at the Premises during the period which the Tenant/occupants remain in occupation of the Premises.
-Faircape Short-Term Letting cannot be held responsible and/or accountable for services rendered by third parties such as Internet & Satellite TV Providers, and facilities at apartment complexes such as elevators and other building facilities.The Tenant accepts liability for all minors and all visitors of the property.Jurisdiction:The parties agree to be governed in accordance with the laws of the Republic of South Africa.
-Address for legal documentation and notices: Any notice or document to be given by or to either party in terms of these standard terms and conditions may be hand delivered, given by prepaid post, faxed or sent by e-mail.
-The Tenant: as per the address and / or email address provided on the reservation form.
-General: No variation of these terms and conditions shall be of any force or effect unless it is in writing and is signed by both parties.These terms and conditions contain all the terms and conditions of the agreement between the parties.No indulgence or leniency shown by any party shall in any way prejudice such party from exercising any of its rights in the future. see more
Harbour Bridge Penthouse Map
Click to display the map
Harbour Bridge Penthouse is 1.7km from the centre of Cape Town , the nearest airport 20.1km (Cape Town International Airport).
*Distances are shown as the crow flies and not necessarily the actual travelling