San Lameer Villa 3205
San Lameer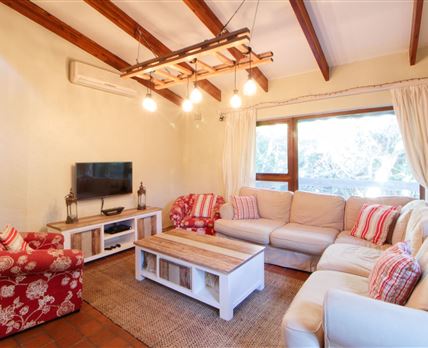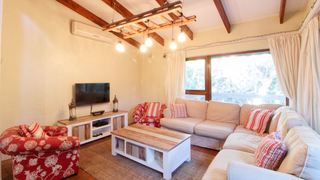 About San Lameer Villa 3205
San Lameer Villa 3205 is located in San Lameer Estate. This wonderful estate has various activities, including an 18 hole championship golf course.

This three bedroom villa is able to accommodate six people and has three bathrooms. The main bedroom has a king size bed, while the other two bedrooms on the second floor has a double bed and and two single beds. The main bedroom has an en-suite bathroom, fitted with a shower. Adjacent to the main bedroom there is also another bathroom with a bath. The last bathroom has a shower, basin and a toilet, is located on the second floor.

The villa also comprises an open-plan, lounge and dining area leading onto the covered patio area, including a dining table and gas braai only. The unit also has a working desk station where the business minded person can set up shop with your laptop.

The kitchen is sufficiently equipped and has a stove, fridge-freezer, and microwave. The unit also has a washing machine, tumble dryer available and dishwasher for your convenience. The dining area has seating for six people, while the lounge has comfy seating and a TV with a full selection of all DStv channels.

Each room has an aircon. Daily service included, except on Sundays and Public Holidays. Undercover parking is provided for one vehicle, while there is a guest parking space in front of the unit for a second vehicle.
Response Rate: 100%
Enquiry Response Time: an hour
Type: Self-catering
Sleeps: 6
Check-in: 1:00 PM

Check-out: 10:00 AM
Important Information
Extra costs not included in this quote and charged separately:

A refundable breakage deposit of R1000.00 will be required, which will be refunded a week after departure, should there be no damages.
A once-off administrative fee of R350 is charged per booking.
The San Lameer Estate charges a gate entrance fee per vehicle:... Extra costs not included in this quote and charged separately:

A refundable breakage deposit of R1000.00 will be required, which will be refunded a week after departure, should there be no damages.
A once-off administrative fee of R350 is charged per booking.
The San Lameer Estate charges a gate entrance fee per vehicle:
R60 for 2 days
R90 for 3 days
R100 for 4 to 7 days
R200 for 8 days and longer.

Guests need to provide their own beach towels.
Linen is provided.
The villa is serviced daily, except Sundays, public holidays AND during special promotional periods in low season. Should you wish to have the villa serviced during these times, please enquire with us on the rates.


FEES

We require a 50% deposit to secure your booking dates.
The rest of the balance should be paid between 7-30 days before your arrival, depending on the length of your stay and is indicated on your invoice.
All payments MUST REFLECT in our account before an arrival. EFT transfers must be made "pay and clear" for last minute bookings - same day arrivals. Please note the access code will only be provided once the full amount is settled.

Your total amount in staying with this villa consists of the following:

• Accommodation Amount: Charged per night. Dependent of season.
• Once off admin fee: R350 / R400 depending on the season and yearly increases. 111111111111 (admin fee is non-refundable)
• Gate Fee: San Lameer Security charges the following fees per vehicle entering the estate:
• R30 per day (1-3 days), 4–7 days R100, longer than 7 nights R200.
• Refundable Breakage / Deposit: R1000 (varies per season)


Unfortunately no cheques, travelers cheques or cash accepted. Payments via EFT are preferred. Online credit cards are accepted with an extra processing fee. ATM deposits are also accepted, but branch deposits will be charged with an extra fee that we will deduct from the breakage deposit.



DEPOSIT REFUND DATE

All payments are processed on the Thursdays and refunded on the first Friday after the departure date. If there is no damages the full amount will be refunded.

Extra costs will also be deducted from this amount. These fees includes day visitors, extra vehicles, extra banking costs like branch deposits, housekeeping not paid etc.

Should there be damages, only the pro-rata amount will be repaid. Should damages be more than the deposit amount, the guest will be liable for the extra amount.

****** All December Bookings with departure dates after 10 December, will have their refunds done only on the 8th of January, please take note of this. *****

Please note your refundable breakage deposit will be forfeited if we do not receive your bank details within 4 months since the date of departure.



HOUSE RULES





San Lameer Estate is NOT pet friendly.

Upon departure, guests are required to leave the units, as they want to receive them. If not, a cleaning fee of R 500.00 will be charged and deducted from the breakage deposit, or will be paid by the guest on demand, without offset or delay.

Only 1 toilet roll per day, per toilet will be supplied IF the villa is serviced daily. Should the villa not be serviced, please bring along your own as you will only get a roll per toilet on arrival.

The villa is fully equipped with linen, towels, crockery, cutlery and braai facilities but please bring along your own beach towels.

No kids/babies are allowed to sleep on the bed with their parents. Guests need to bring along or arrange a camping cot for their babies. In order to provide crisp and crisp bedding, this rule has to be adhered to at all times. Should we be informed that this is not adhered to, it will lead to a breach of the contract. Please inform us should you need a camping cot, as we might be able to arrange one at an extra cost.

Don`t forget things that self catering units DO NOT OFFER. This includes dish washing liquid; soap powder for laundry; soap/shampoo toiletries. No hotel amenities are provided - it is a self catering villa. Bring your own toiletries, cleaning materials and foods.

Should the villa come equipped with a dishwasher and washing machine, please bring along your own dishwasher tablets for the dishwasher and washing powder / stay soft for the wash machine. Please have a look at the villa's description to determine if the villa has these facilities. If still uncertain, just ask us please.

Furniture and utensils may not be removed from the villa. Should this occur, the full breakage deposit will be forfeited.

No smoking or burning of incense are allowed. Your key deposit will be withheld for a professional cleaning service and you will be held liable for the extra costs above the balance of the key deposit to cover these damages or to remove the fumes.

Linen and towels changes every 5 days and on all new arrivals. Should there be extremely damp conditions and you would prefer a change one day earlier, please inform us to hear if this is possible. Should you wish to have more regular linen changes, inform us as this can be arranged at an extra cost.

You are not allowed to sublet the unit. Keys will only be signed out to the surname confirmed with our agent. Any 3rd parties will not be granted access to the villa.

PLEASE always have your windows and doors LOCKED if you leave the unit. The blue vervet monkeys are fond of your snacks, food and fruit and they seem to have adapted the skill to open and close windows. Please be VERY careful before leaving the villa and make sure it is completely closed.

Once the keys have been collected, they are the responsibility of the guests and if lost, damaged or not returned on departure, the guest will be liable for replacement of locks, keys and remotes. On departure please ensure that all windows and doors are locked as the guest will be liable for any losses incurred when you are out or have vacated the premises. Keys are to be returned to reception.

Please note that for non-essential appliances such as televisions, DStv connections, problems or faults and gas braais will strictly be dealt with in office hours only. Should you insist on a call out for a non­-essential emergency, a call out fee of R 550 will be applicable and will be deducted from the breakage deposit or will be payable on demand, without offset or delay.


Always save electricity in SA. Please switch off all appliances, lights, aircons, ceiling fans etc, if you are leaving the villa or not using them.



DAILY SERVICE

Please have a look at the villa's description to see if the villa is serviced daily. Some villas have a standard daily service included, some only in-season while others have no service at all.

Should the villa's daily service not be included in your package and you do want a service, please inform us as this can be arranged. Please take note that the you have to pay the housekeeper directly on the day of her arrival should you wish to have the villa serviced.

Please note that a daily service includes the following: General cleaning of unit, washing of dishes and making of beds. A service does not include any washing or cleaning of clothes, carpets, linen, duvet covers, comforters & blankets or ironing. Should you wish to have extra services provided, please enquire with the lady on the cost.

The arrival times of the housekeeping teams are between 8h30 and 12h00. Should you wish to have it scheduled at a specific time, inform us that we can determine if this is possible.

Daily services are not provided on a Public Holiday or Sunday. Should you still wish to have it serviced, please inform us to see if this can be arranged and at what cost. (usually double the daily rate)




DSTV


The DSTV is already connected on the Dstv Premium Package. Switch TV on with TV CONTROL, select channels with DSTV CONTROL. Do not adjust the settings or try to connect your own card or any appliances like dvd's, video players, games etc.

Should it for some reason not be working on your arrival, please just make sure it is on AV. You can also remove the plug from the wall for 10 seconds and insert it again. If it is still not working after the scan of about 5 minutes, please inform us at our provided contact details with the "E" message on the screen.

Should the TV / Dstv not be in the working order upon your departure, the call out fee of the technician of R550 will be on the guest's account. Thus please make sure it is on and working.



ARRIVAL / DEPARTURE TIMES




Arrival from 14h00 onwards.
Departure by latest 10H00.

Should you wish to check-in earlier or depart later please enquire if this is possible.


We do a full service on departure for the next arrival and only have a limited amount of time. Should you leave after 10h00AM, a R300 per hour fee will be deducted for every hour or part of it you leave after the scheduled time.






ARRIVAL DAY

We will text you the entry code for the main gate on the day of your arrival. (only if all outstanding balances have been settled)

Keys are to be collected with reception at the main gate.

Please have your driver's license with you.

Should a 2nd vehicle be entering the estate, please inform us as the access codes has to be arranged accordingly.

The 2nd vehicle doesn't need to sign in at reception, only the first vehicle, but still needs an extra code.

Please note each villa ONLY has one carport and is numbered. Extra vehicles need to park at the gust parking spaces that each lot has. Please note these spaces are open.

A security wristband can be obtained from main gate reception that enables you to access the beach and pool area during your stay @ R10 pp, children don't need one.

DEPARTURE DAY

Hand over your keys at reception, main gate.
If you depart with our keys, we will unfortunately have to use the key deposit for a locksmith.
Please also make sure any keys hanging in the villa for the patio door are placed on the same place it was as upon your arrival. This is very important please!


DAY VISITORS

If day visitors are entertained we deduct a fee for cleaning services and other amenities from your key deposit, depending on how many guests. One day per week day visitors will be allowed equal to the number of guests the villa sleeps.

Day visitors are charged with a gate fee of R30 per day, per vehicle. This amount will be deducted from your deposit fee.

If you invite friends, please contact the property manager to arrange entrance with security at the main gate. We have the access code and will provide it accordingly.
CANCELLATION POLICY

30 Days before the arrival date, 50% of the total accommodation amount will be refunded UNLESS an alternative booking is sourced, in which case we don't charge a cancellation fee.
Within 30 days of arrival, 0% refund, UNLESS an alternative booking is sourced.
No show - total payment forfeited.
Early departures no refunds.

BREACH OF CONTRACT:
Results in losing your key deposit and reimbursing the villa for any extra costs over the key deposit amount.
If you accommodate more guests than confirmed and paid for you will be removed by security immediately without a refund.
Smoking or burning incense in the villa.
Insulting the homeowner, manager, housekeeping or any officer in San Lameer.
Tampering with TV channel settings or connecting appliances like DVD`s, Video players, tv games.
All breakages will be deducted from the key deposit before a refund.
Right of admission and eviction reserved without refunds if we receive complaints from the estate, guests, housekeeping or any other persons during your stay.

TOP DESTINATIONS

We are mandated to manage individual privately owned properties on behalf of the property owner. We are not a resort management company. Accordingly, maintenance, repairs, appliances which are out of order or any other facilities failure, will only be dealt with during office hours, unless in the event of an emergency. If appliances/fixtures or any other facilities fail and need to be repaired/replaced during the course of your stay, we cannot be held liable for the immediate replacement or repair thereof. We will, however, endeavour to assist the guest within reason. In the event of any the above occurrences, no discounts or refunds will be given. We reserve to right to, at our discretion, substitute alternative accommodation, similar to that booked, or offer a full refund, should the original unit no longer be available for reasons beyond our control.

The guest's liability, jointly and severally of the primary guest and other guests, is not limited to the value of the breakage deposit and the primary guest accepts liability and responsibility, and furthermore, warrants that he/she will pay for, on demand without delay or offset, any shortages/damages or breakages.

Should we suffer any loss or damage as a result of an act or omission by a guest or visitor of a guest, the primary guest will remain liable for full reimbursement of such loss or damage incurred and warrants that he/she will pay for same, on demand, without offset or delay.

We cannot be held liable for any loss or inconvenience to the guest caused by an act beyond our control or any act of the property manager or any member of the staff of the villa. We shall not be liable for any injury, death, loss, damage, accident, delay or inconvenience, howsoever caused, during the guests stay. Any loss or additional expense caused due to acts of God, nature, war, terrorism, insurrection, riot, boycott, theft, fire, labour action, government action or natural disaster, bad weather, interrupted electrical/water/municipal services or other causes will be borne by the guest and we accept no liability therefore. Furthermore, no refunds or discounts will be given in the event of any of the above occurrences.

The guests accept liability for repairs or maintenance performed but deemed by us to be the fault of or as a result of the negligence of the guest.

We will not be held responsible for any valuables or personal items left in the unit during your stay or on departure. Should an item be left behind, the onus is on the guests to make arrangements for collection. Unfortunately, we are unable to store these items for more than 4 months and should the item/s not be collected, these items will be removed.

While every effort is made to ensure that the photos contained herein is accurate and up to date, we makes no warranty, representation or undertaking whether expressed or implied, nor do we assume any legal liability whether direct or indirect or responsibility for the accuracy completeness or usefulness of any photos/appliances contained herein.

All persons who make use of facilities and units rented do so entirely at their own risk.

Have a safe journey and pleasant stay. We welcome positive criticism and suggestions to keep satisfying the needs of every guest to ensure an unforgettable stay.

We rely on the help of guests advising us on for example maintenance is needed. Any defects in the villa on arrival for example broken window or TV not working - must please be reported within 24 hours.
Best Wishes,
Team Top Top Destinations



see more
Specials
SAVE 30%
LONG STAY PROMO <<<
Stay between 01 Oct 2019 and 03 Dec 2019 and get 30% off.
6 night min stay (check-in between 01 Oct 2019 and 03 Dec 2019)
Stay for 4 nights and only pay for 3 nights between 01 Oct 2019 and 03 Dec 2019. Valid every Mon,Tue,Wed,Thu. .
4 night min stay (check-in between 01 Oct 2019 and 03 Dec 2019)
San Lameer Villa 3205 Map
Click to display the map
San Lameer Villa 3205 is 2.4km from the centre of Southbroom , the nearest airport 10.4km (Margate Airport).
*Distances are shown as the crow flies and not necessarily the actual travelling