Clifton Beach Bungalow
Clifton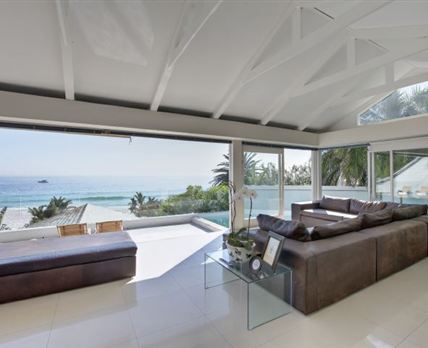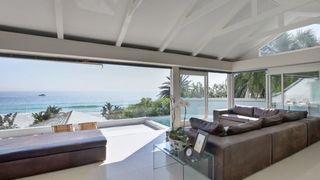 About Clifton Beach Bungalow
Located on the most glamorous stretch of Cape Town coastline Millionaire Row, north facing, this beautiful beach bungalow provides the perfect setting for an ideal holiday experience. Overlooking the famous Clifton Beaches, one has the incredible advantage of breath-taking views of the crystal blue waters of the Atlantic Ocean and the amazing sound of the waves, while sun tanning or bathing in your own plunge pool.The bungalow consists of four-bedrooms, all of which has are en-suites and is fully fitted with all mod-cons boasting full sea-views from the lounge, dining room and main bedroom. BEST FEATURES: A stroll away from the beach Amazing sea views Plunge pool and Jacuzzi
GENERAL: 2 levels ( 271 sqm) Located on Clifton 4th beach Mountain and Sea Views 30 seconds walk to beach, WIFI.
Serviced Mon – Fri
Child safety issues –pool, open. No net.
Approx 50 steps to the bungalow from Victoria Road.
BEDROOMS:MASTER BEDROOM (UPPER LEVEL) Queen size bed and en-suite bath and shower Sea Views
2ND BEDROOM (LOWER LEVEL) Queen bed with shower View into the swimming pool from two windows
3RD BEDROOM (LOWER LEVEL) Queen bed with bath Garden Views and one window faces into swimming pool. Interleading glass door with 4th bedroom.
4TH BEDROOM (LOWER LEVEL) Queen bed with bath Garden Views.Interleading glass door to bedroom 3.LIVING AND DINING: Main lounge open plan leads onto terrace & pool Open plan lounge/dining/kitchen area Dining area for 10 guests Fully equipped kitchen Washing machine Sofa area for 8 guests Sea views from lounge and kitchen Gas Barbeque indoors Jacuzzi in lower floor seating area No AirconOUTSIDE AREAS: Pool 13 SQM 3 sun loungers Indoor Patio barbeque
NB This villa is suitable for max 3 couples or a family with children. Street parking
LOCATION: Beach – 20 steps away Restaurants – 2 mins away Shops – 5 mins drive City Centre – 10 mins drive
Kids must be able to swim as the pool is open ie no net or fence.
Street parking or at The Ridge.
Response Rate: 50%
Enquiry Response Time: 52 hours
Minimum stay: 3 Days
Type: Self-catering
Sleeps: 8
Check-in: 2:00 PM

Check-out: 10:00 AM
Facilities
Braai/Barbecue
Swimming Pool
Jacuzzi/Hot-tub
Indoor Fireplace
Wi-Fi
Important Information
Booking Conditions
1. Introduction
These Booking Conditions, together with the Occupation Conditions, set out the terms and conditions upon which Villapa Realty (Proprietary) Limited ("Villapa") makes Properties available for use by Occupants (the Guest and any and all Occupants staying in the Property for the Rental Period). All Occupants... Booking Conditions
1. Introduction
These Booking Conditions, together with the Occupation Conditions, set out the terms and conditions upon which Villapa Realty (Proprietary) Limited ("Villapa") makes Properties available for use by Occupants (the Guest and any and all Occupants staying in the Property for the Rental Period). All Occupants staying at a Property are respectfully requested to familiarise themselves with these Booking Conditions and the Occupation Conditions.
2. Making a booking and paying a deposit
In order to make a Rental Booking, we require your personal details and a confirmation deposit ("Confirmation Deposit"). No agreement exists between you and Villapa and/or the Property Owner until we have received the Confirmation Deposit of 50 % (in cleared funds in its bank account), a copy of your passport or national identification document and the signed and completed Booking Form. We will confirm your Rental Booking in writing. Payment can be made by bank transfer to the bank account detailed on the Booking Form (payment confirmation should be emailed to our office).
3. Payment of balance
The balance of 50 % ("Balance") must be paid by the due date which is usually nine weeks before your arrival, but may be varied as set out in the Booking Form. Payment may be made by bank transfer or by credit card, in which case a surcharge is payable. If the Balance has not been paid by the required date Villapa shall be entitled, but not obliged, to cancel your Rental Booking and retain the full deposit. If your Rental Booking is made within eight weeks of your arrival, you will generally be required to pay the Total Cost at the time of the booking unless otherwise advised.
4. Security Deposit
You, the Guest, are liable for any Damage to the Property whatsoever during the Rental Period. Damage includes, but is not limited to, damage or breakages caused to the Property, whether structural or otherwise, to any contents, furnishings, fixtures or fittings, and whether interior or exterior. The liability shall arise upon the occurrence of the Damage and you shall be liable to pay to the Property Owner, on demand, any and all such amounts as may be required to repair or replace, at the sole discretion of the Property Owner, the Damage. Notwithstanding anything to the contrary, you are required to report any and all Damage whatsoever to Villapa immediately after its occurrence, and in any event on or before the Departure Date.
Villapa therefore requires Guests to pay a separate security deposit in addition to the Total Cost ("Security Deposit"). The standard Security Deposit is ZAR20 000.00, unless otherwise stated. During the High Season, and for guests attending the Investing in African Mining Indaba and such similar events from time to time, the Security Deposit is increased to ZAR40 000.00. This is held by the Agent or Villapa. The Security Deposit will be held against the cost of any damage or breakages to the Property or its contents ("Damage"), as well as any telephone charge/lost keys. Any charges to be deducted from the Security Deposit will be notified to you within 14 days of the end of the rental period, after which the remainder of the Security Deposit shall be returned. Please note that we will charge a 5% administration fee for the rectification of Damage. This administration fee is in addition to the cost of the remedial works required to remedy any Damage.
5. Cleaning service
The Property will be made available to you after having been cleaned thoroughly. If you indicate on the Booking Form that you require a Cleaning Service, we will confirm availability and the cost. This may not be possible to arrange on short notice during your stay. The Cleaning Service does not extend to the personal laundry of and cooking for Occupants. Local laundry services are available. We can provide you with the contact details of private caterers on request when you book. If applicable, personal laundry and ironing services shall be charged on a per item basis. Please make enquiries before using personal laundry and ironing services at the Property. The Property must be vacated in a neat and presentable condition. If, after check-out on the Departure Date, it is discovered that the Property is vacated in an unacceptably untidy condition, the Property shall be deemed to be Damaged, in which case, a cleaning surcharge of ZAR300 shall be charged by Villapa, and payable upon demand.
6. Other services included in Rental Amount
Unless otherwise advised, the Rental Amount includes domestic electricity, gas (where relevant), water, municipal rates and levies, broad band data charges and satellite TV access. Domestic electricity does not include Pool Heating. If you indicate on the Booking Form that you require Pool Heating, we will confirm the availability and the cost thereof. You will be notified of the cap and you will be charged for any usage in excess thereof. Such arrangements will be brought to you attention in advance.
7. Arrival and Departure times
Check in time is at 2pm on the Arrival Date and check out time is at 10am on the Departure Date ("Rental Period"). Requests for an early check-in (before 2pm) or later departure (after 10 am) are always subject to the availability and convenience of our staff. In order to guarantee a check-in and/or check-out at times other than those set out above, an additional charge of 50% of one nights rental cost for the Property will be payable in advance. You will be provided with directions and instructions for the check–in and check-out procedure separately. For arrivals after 7pm or before 7am an after-hours check-in surcharge of ZAR500.00 will be levied.
8. Cancellation by you
If you wish to cancel your Rental Booking, you, being the person who signed the Booking Form, must notify us in writing ("Cancellation Notice"). Your Cancellation Notice will be effective from the date we receive it. If cancellation is made nine weeks or more before the Rental Booking Villapa shall be entitled to retain the Confirmation Deposit. If cancellation is made nine weeks or less before the commencement of the Rental Booking, 100% of the Rental Amount shall be retained. You hereby agree and acknowledge that this is reasonable, in light of the fact that the chances of re-advertising and/or remarketing the Property and finding another replacement rental booking are remote, and that the retention of the Confirmation Deposit or Rental Amount, as the case may be, is a genuine, reasonable and fair pre-estimate of the loss and/or damages that will be suffered.
9. Alterations and cancellations by us
It is unlikely that we will have to make any changes to the Rental Booking once it has been confirmed. If this does happen we will let you know as soon as possible. If, for any reason beyond our control, we are unable to provide you with the Property, we reserve the right to transfer you to a similar property. If this is not possible or you do not wish to be transferred, we agree to cancel the Rental Booking and refund you with the amount you have transferred to us for the Property. Please note that we will not be liable for any cancellation charges for any other travel arrangements or any further claims by you or anyone else in your party, other than as set out above, and you indemnify Villapa accordingly.
10. Children
Unfortunately most of the properties we feature are not particularly child friendly and many have architectural and physical features of concern for Occupants with younger children, such as balconies, split level terraces with steep drops and unfenced pools. Occupants with children use the Property at their own risk and are urged to take all due care and attention during their stay. In this regard, the Occupants, their invitees and their respective children, and their estates shall have no claim against Villapa and/or the Property Owner for any personal injury or death, any loss of any nature, costs, damages, legal fees and the like. If you require further information on the suitability of the Property for children you are requested to bring this to our attention prior to paying the Confirmation Deposit. If you ask Villapa to arrange for the installation of baby gates, baby proofing or any safety devices or equipment for any reason whatsoever, we will arrange such installation and/or supply of such devices and/or equipment for you on your behalf. Villapa, its agents, directors and staff take no responsibility, make no representations, give no warranties of any nature whatsoever in relation to any such devices and/or equipment and/or installation. You and each of the Occupants, their invitees, guests and estates undertake to Villapa to satisfy yourselves that any such devices and/or equipment and/or installation is satisfactory and suitable for the purpose for which they are installed and/or supplied, and accordingly, each of you indemnify the Property Owner, Villapa, its agents, directors and staff against any personal injury or death, any loss of any nature, including, but not limited to, costs, damages, legal fees and the like, without reservation.
11. Swimming pools
Where the Property features a swimming pool, it is used entirely at your own risk. The swimming pool is not supervised in any way or equipped with child safety-nets or fences. The Occupants, their invitees, their respective children and their estates shall have no claim against Villapa and/or the Property Owner for any personal injury or death, any loss of any nature, costs, damages, legal fees and the like. The pool may not be heated, and may only by suitable for use in summer only. The Pool is serviced regularly and while we will endeavour to arrange additional cleaning services if required during the Rental Period, this is not always possible. We cannot guarantee that the pool will remain completely clean during the occasional periods of extreme weather conditions.
12. Telephone and Internet service
The Property may have telephone and broad band data access for Occupants' use. Please confirm 14 days prior to the Arrival Date telephone and broad band data access required. These services are less reliable and the data speed is generally slower than in Europe and the US. We will do our best to assist with any technical problems. All phone calls you make will be charged and in most properties can be paid for at the Departure Date or will be notified to you within 14 days of the Departure Date. Data usage is generally capped at 1Gig thereafter a charge will be issued for each further gig.
13. Use of Property
Unless otherwise agreed prior to Booking Confirmation, the Property may only be used as private rental holiday accommodation and not for any photographic or film location work or as a venue for any function, wedding, party or event involving anyone other than the Occupants entitled to sleep at the Property as notified to Villapa on Booking Form. Where Villapa becomes aware of any such unauthorised use of the Property it shall be entitled to require such usage to cease immediately and/or terminate the Rental Booking and require Occupants to vacate the Property upon demand. In these circumstances Villapa may also be entitled to charge an additional fee for the unauthorised event, such fee to be calculated reasonably at its discretion depending on the nature of the event and to be recovered if necessary from the Security Deposit.
14. Maximum number of Occupants
The names of all the Occupants are set out in the Booking Form and no other person may occupy or reside at the properties at any time without Villapa's prior written consent. Only those Occupants may use the Property and under no circumstances may the total number of Occupants sleeping at the Property exceed the maximum number stipulated. Guests should only sleep on the beds provided. The sofa beds may be used for children under 16 by prior arrangement. We are entitled to require you and the Occupants to vacate the Property if the conditions set out in paragraph 13 and paragraph 14 are breached. In addition to being entitled to require you and the Occupants to vacate the Property, we shall also be entitled to charge a pro-rata rate in the event that persons other than those on the Booking Form occupy, reside at or sleep at the Property. These entitlements shall be exercised and/or enforced at our sole discretion. No pets are permitted on the Property.
15. Behaviour
You are ultimately responsible for the conduct of the Occupants using the Property during the Rental Booking Period. If an Occupant or invitee behaves in an unacceptable manner by civilised standards, the Occupants may be required by the Property Owner to immediately vacate the Property on notice. It is not considered acceptable behaviour for these purposes to make excessive noise, including playing music loudly after 10pm. (This time may vary dependant on by-laws of suburb.) Such behaviour will not be tolerated as the Property is located in a quiet residential area. You are respectfully required to comply with any reasonable requests or instructions that may be provided to you, either prior to or during your stay in the form of "house rules" prepared by or on behalf of the Property Owner or a body corporate.
16. Smoking
Unless otherwise advised the interior the Property is a "no smoking" area and Occupants are advised that under no circumstances may they smoke inside the interior of the Property.
17. Responsibilities
It is your responsibility, and that of each of the Occupants: (a) to pay for any losses or damages to the Property, however caused (reasonable wear and tear excluded), (b) to take good care of the Property and leave it in a clean and tidy condition at the end of the Rental Booking Period, (c) to permit the Property Owner access to the Property on reasonable notice, (d) not to part with possession of the Property, or share it, other than with the Occupants, (e) not to cause an annoyance or become a nuisance to occupants of adjoining and/or adjacent properties, and (f) to comply with any reasonable instructions that may be provided to prior to or during the Rental Booking Period.
18. Property Descriptions
The description of the Property used on our web site or otherwise provided to you is made in good faith and is believed to be accurate. We cannot, however, be held responsible for any alterations or modifications made to the Property without our knowledge.
19. Concerns during the Rental Period
If you have any concerns during the Rental Booking Period, please notify us as soon as possible so that the concern or problem can be addressed. Villapa and the Property Owner are not responsible for disturbances, failures or malfunctions out of our respective control, as well as the failure of services supplied by the municipality, services supplied by third party data and telephony suppliers, pool equipment malfunctions, appliance malfunctions and/or neighbour, construction or other nuisances. We will make every effort to assist with the resolution of such problems as soon as we are notified of them. We emphasise the importance of bringing concerns or problems to our immediate attention, with suitable photos and/or written accounts, as we cannot assist with or address a concern or problem after the fact. If you vacate or abandon the Property during the Rental Booking Period without notice, you shall forfeit any claim to compensation, assistance and/or reimbursement if applicable.
20. Emergency Call-outs
You will be given an emergency after-hours mobile phone number staffed by a Villapa representative to assist with any urgent maintenance work or other emergency issues outside of normal business hours. We will make every effort to assist with resolving issues of an urgent nature but it will not always be possible to resolve issues outside regular working hours, at weekends and/or on bank/public holidays. If you have an emergency of your own doing requiring the after-hours assistance of Villapa, for example losing the keys or locking yourselves out of the Property, you will be required to pay an emergency call-out charge of ZAR300.00.
21. Breach of contract
If any of these Conditions are breached by you or any of the Occupants or any of their guests or invitees, we reserve the right to re-enter the Property and terminate the Rental Booking without prejudice to the other rights and remedies of the Property Owner.
22. Liability
We and the Property Owners will not accept liability for any act, neglect or default for any accident, damage, loss, injury, expense or inconvenience, whether to person or property, which any of the Occupants or any of their guests or invitees may suffer or incur arising out of, or in any way connected with, the Rental Booking.
23. Insurance
All Occupants are strongly advised to arrange comprehensive travel insurance cover against travel and other related risks as any loss or damage including theft of personal items cannot be claimed against the Property Owner's insurance. It is the responsibility of all of the Occupants to fully insure themselves and their personal items and also to keep the Property properly secured by setting the alarm, securing all doors, windows and shutters, and taking all prudent measures against harm, when in the Property and when going out. (We strongly advise that Occupants' insurance cover is adequate to cover their loss, as Property Owner's insurance does not extend to the loss of third parties.)
24. Authority to sign
You, being the person who completes and signs the Booking Form, warrant and undertake to Villapa and the Property Owner that you (a) are authorised to agree to and accept these Conditions on behalf of all the Occupants, including those substituted at a later date, (b) have full legal and contractual capacity and shall be an Occupant, (c) take responsibility for all persons Occupying or visiting the Property during the Rental Booking Period and (d) will make all Occupants, guests and invitees aware of the Booking Conditions and Occupation Conditions and the consequences thereof. We also require a copy the person who is signing to send a copy of your passport (if a foreign national) or if South African a copy of your Identity Document.
25. Governing law and jurisdiction
The validity, construction and performance of these Booking Conditions shall be governed by South African law. It is agreed between you, the Occupants, and the Property Owner that, in terms of Section 45 of the Magistrate's Court of 1944, the Magistrate's Court having jurisdiction in terms of Section 28 of the said Act shall have jurisdiction in respect of any action to be instituted arising from or in relation to The Rental Booking. It shall nevertheless be entirely within the discretion of the owner of the Property and/or Villapa whether to proceed against you and/or the Occupants in such Magistrate's Court or in any other Court having competent jurisdiction.
see more
Clifton Beach Bungalow Map
Clifton Beach Bungalow is 5km from the centre of Cape Town , the nearest airport 24.9km (Cape Town International Airport).
*Distances are shown as the crow flies and not necessarily the actual travelling
Things to do in and around Clifton