515 Cape Royale
Green Point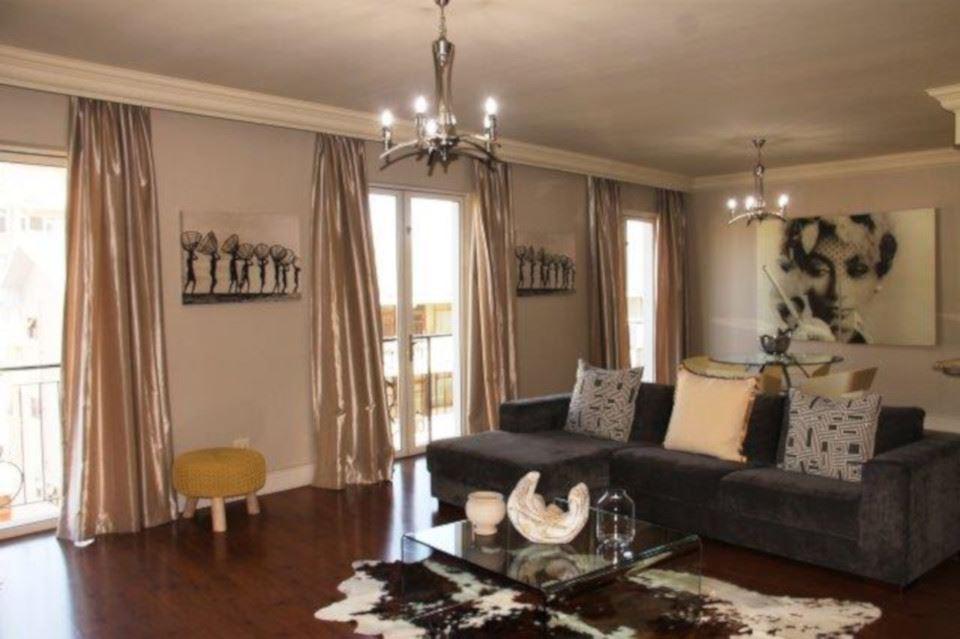 About 515 Cape Royale
515 Cape Royale is a two-bedroom side facing unit located in a hotel in Green Point. It has slight views of the Signal Hill and the V&A Waterfront.

This fully-equipped apartment is light, airy and very neat situated on the fifth floor. It includes two bedrooms and two bathrooms, both are en-suite. The lounge, dining and kitchen area is open-plan. The apartment is well proportioned with Juliette balconies for lots of natural light.

Housekeeping and linen-changes are done once a week, however, additional housekeeping can be arranged. DStv and Wi-Fi are available. The building is wheelchair friendly, with lift access and secure parking.

The residential building is located along the popular tree-lined avenue in Green Point, it's known as the artistic section of Cape Town. The Airport is approximately 30-minute away. Attractions in the area include Clifton and Camps Bay.
Facilities
Satellite TV*
Wi-Fi
Cosy
Bars
Bathroom
Kitchen
Lounge
Shower
* Please enquire for further details.
Important Information
Breakages Deposit:
Credit card hold, amount depending on the length of stay, minimum R1000, maximum R5000
Payments can be made via EFT or Credit Card
A credit card link is sent to the client via Nedbank Iveri Secure Payment Gateway (IVERI – 3D SECURE). Payments made by credit card incur a surcharge of 2.5%

Advance booking... Breakages Deposit:
Credit card hold, amount depending on the length of stay, minimum R1000, maximum R5000
Payments can be made via EFT or Credit Card
A credit card link is sent to the client via Nedbank Iveri Secure Payment Gateway (IVERI – 3D SECURE). Payments made by credit card incur a surcharge of 2.5%

Advance booking time:
1 Day advance booking (no same day bookings)
Breakages Deposit:
Minimum refundable breakages deposit R1000 (taken with rental, refunded back to a credit card).

Payment:
50% payment required on reservation, balance 30 days prior to arrival.

Cancellation:
The guest will be charged 50% of the total price if they cancel after reservation and the total price.
if they cancel in the 14 days before arrival.

Grace Period:

Guests can cancel free of charge if the cancel within 24 hours of reservation (excludes last-minute
bookings made up to 48 hours before check-in)

Min stay:
2 nights

Advance booking time:
1 Day advance booking (no same day bookings)

Breakages Deposit:
Minimum refundable breakages deposit R1000 (taken with rental, refunded back to credit card).

Our Booking Procedure
Set out below are details of our standard booking procedure and the terms and conditions upon which our represented
properties are made available for use. One member of your party will be required to sign a Registration Form
acknowledging and agreeing to these Terms and Conditions either before or on arrival. Some of our properties also have
their own specific "house rules" or regulations set by the relevant property owner or housing association which you will be
provided separately.
1. Making a booking
A deposit payment of 50% of the total property rental cost is required. The remaining balance must be paid 30 days before
the Occupation Date, or should the reservation be made less than 30 days before the Occupation Date, the reservation
date. If the balance has not been paid by the required date we are entitled to cancel your booking and retain the full
deposit.
2. Services included
Unless otherwise advised, your booking cost generally includes utilities charges, cleaning service, satellite TV and internet
services. Cleaning service is provided during weekdays, on weekends an additional charge applies.
3. Breakages Deposit
A Breakages deposit is payable with your rental. This amount can vary between R1000 and R5000 depending on length of
stay. The Breakages Deposit will be held against the cost of any damages or breakages to the rental property or its
contents, any telephone charges and any other charges for additional services provided or charges which the Property
Managers are entitled to deduct such as the cost of replacing lost keys. Upon completion of our post‐departure property
check, the outcome of which will be deemed to be conclusive, you will be notified of any charges to be deducted, the
balance will be refunded within 48 hours after post inspection and once we have established costs for any replacements.
4. Alterations and Cancellation by you
If you wish to alter your dates or to cancel your booking you must immediately notify us by telephone and/or email. Your
cancellation will be effective from the date of its receipt by us. Refunds and waiver of cancellation policies are at the
discretion of management and the ability to find alternative tenants. We advise all clients to obtain cancellation insurance.
The following cancellation fees will apply:
5. Property Cancellation & Grace Period
The guest will be charged 50% of the total price if they cancel after reservation and the total price if they cancel in the 14
days before arrival.
Guests can cancel free of charge if the cancel within 24 hours of reservation (excludes last‐minute bookings made up to 48
hours before check‐in).
Property Descriptions
Camps Bay Luxury Villas takes all reasonable precautions to ensure that the descriptions of properties and services on our
web site or otherwise provided to you are accurate. However errors do occasionally occur and we reserve the right to alter
descriptions where necessary.
6. Alterations and cancellation by us
In the unlikely event that Camps Bay Luxury Villas or the Property Managers needs to make changes to your arrangements
once these have been confirmed we will let you know as soon as possible. If, for any reason beyond our control, we are
unable to provide you with the property you have booked, or if we recommend that your accommodation be changed in
the light of local construction work causing unreasonable disturbance, we reserve the right to transfer you to a similar
property. If this is not possible or you do not wish to be transferred, we will cancel the booking and refund the amount
paid to us for the property, but we will not be liable for any cancellation charges for travel arrangements or any further
CShell 320 (Pty) Ltd | Registration Number 2006/020446/07
Director: A P D S Brink
claims by you or anyone else in your party.
7. Insurance
You are strongly advised to arrange adequate and fully comprehensive travel insurance including cancellation cover and
cover for theft of personal items.
Property Terms & Conditions
1. Arrival and Departure times
Unless otherwise advised, check in time is at 2pm on the day of arrival and check out time at 10am on the day of
departure. Requests for an early check‐in (before 2pm) or late departure (after 10am) are always subject to availability and
in order to guarantee this an additional charge of 50% of one night's rental cost for the property will be payable in
advance.
2. Cleaning service, linen and other services
The cleaning service does not extend to personal laundry but local laundry services are available. Linen and towels are
provided at the property. Unless advised, the rental cost includes housekeeping, electricity, water, satellite TV subscription
and Wi‐Fi.
3. Children
Most of our properties have child safety issues and concerns for guests with younger children, such as balconies, split level
terraces with steep drops and unfenced pools. Guests staying with children do so at their own risk and are urged to take
all due care and attention during their stay.
4. Swimming pools
Pools are to be used entirely at your own risk and unless otherwise advised these are not supervised in any way or
equipped with child safety nets or fences. Unless otherwise advised, pools are not heated and may only be accessible in
summer.
5. Use of Property
Unless otherwise agreed prior to booking, the property may only be used as private rental accommodation and not for any
photographic or film location work or as a venue for any function, wedding, party or event involving anyone other than
those guests entitled to sleep at the property notified to Camps Bay Luxury Villas on booking. Where management
becomes aware of any unauthorised use of the property it shall be entitled to require such usage to cease immediately or
terminate the rental and require guest to leave. In these circumstances we may also be entitled to charge an additional fee
for the unauthorised event such fee to be calculated reasonably at its discretion depending on the nature of the event and
to be recovered if necessary from the Breakages Deposit.
7. Maximum number of guests; pets and no smoking policy
The names of all the occupants must be provided at the time of booking and no other person may occupy the properties at
any time without our permission. The number of guests may not exceed the maximum number of guest stipulated by our
properties. Guests may be required to vacate the property if this rule is not complied with. The properties have a strict
non‐smoking policy. Additional cleaning charges may be levied if this policy is not adhered to. No pets are permitted.
8. Behaviour
The person who signs the property registration form is responsible for the behaviour of everyone using the rental property.
If anyone in your party or any guest or invitee behaves in an unacceptable manner by civilised standards the entire party
may be required to vacate the property without notice.
9. Responsibilities
It is each guest's responsibility (a) to pay for any losses or damages to the property, however caused (reasonable wear and
tear excluded) (b) to take good care of the property and leave it in a clean and tidy condition at the end of the rental period
(c) to permit the property owner, the Property Manager reasonable access to the property (d) not to part with possession
of the property, or share it, other than with members of the party named on the Booking Form and (e) not to cause an
annoyance or become a nuisance to occupants of adjoining premises.
10. Complaints and problems during your stay
In the unlikely event that you have any complaints during your stay or there are any maintenance issues to be attended to,
CShell 320 (Pty) Ltd | Registration Number 2006/020446/07
Director: A P D S Brink
please let us know as soon as possible so that the fault can be remedied. The Property Managers and the property owners
are not responsible for issues out of our control such as the failure of the water supply, gas, electricity, telephone or
internet services, air‐conditioning/ heating systems or any appliances although we will use our best endeavours to resolve
any problems as soon as possible once notified of them. In the event that you vacate the property without authorisation
during the rental period, you will lose any rights you might otherwise have had to compensation.
11. Emergency Call‐outs
You will be given contact numbers staffed by the Property Managers to assist with any urgent maintenance work or other
emergency issues. We will use our best endeavours to assist with resolving issues of an urgent nature but it will not always
be possible to resolve issues outside regular working hours at weekends and on public holidays. In the event that you have
a client generated emergency requiring after hours assistance, for example losing the keys, locking yourselves out of the
property, or if you require assistance with your personal computer settings you may be required to pay an emergency call‐
out charge of ZAR500.
12. Breach of Terms and Conditions
If any of these Terms and Conditions are materially breached by any of the guests or invitees, Camps Bay Luxury Villas
reserves the right to re‐enter the property and terminate the rental without prejudice to the other rights and remedies of
Camps Bay Luxury Villas, the Property Managers and/or the property owner.
13. Liability
Camps Bay Luxury Villas, the Property Managers and our property owners will not accept liability for any act, neglect or
default for any accident, damage, loss, injury, expense or inconvenience, whether to person or property, which any of the
guests or their invitees may suffer or incur arising out of, or in any way connected with, the property rental.
14. Authority to sign
The person who completes the registration form also certifies that (a) he or she is authorised to agree to these Terms and
Conditions on behalf of all persons staying at the property (b) the signatory is over eighteen years of age and a member of
the party intending to occupy the property and (c) he or she takes responsibility for any persons occupying the property
during the booking period.
15. Governing law and jurisdiction
The validity, construction and performance of these Terms and Conditions are governed by South African law. It is agreed
between Camps Bay Luxury Villas and the persons staying at the property that any dispute shall be subject to the exclusive
jurisdiction of the South African Courts. see more
Click to display the map
515 Cape Royale is 0.2km from the centre of Green Point , the nearest airport 21.7km (Cape Town International Airport).
*Distances are shown as the crow flies and not necessarily the actual travelling